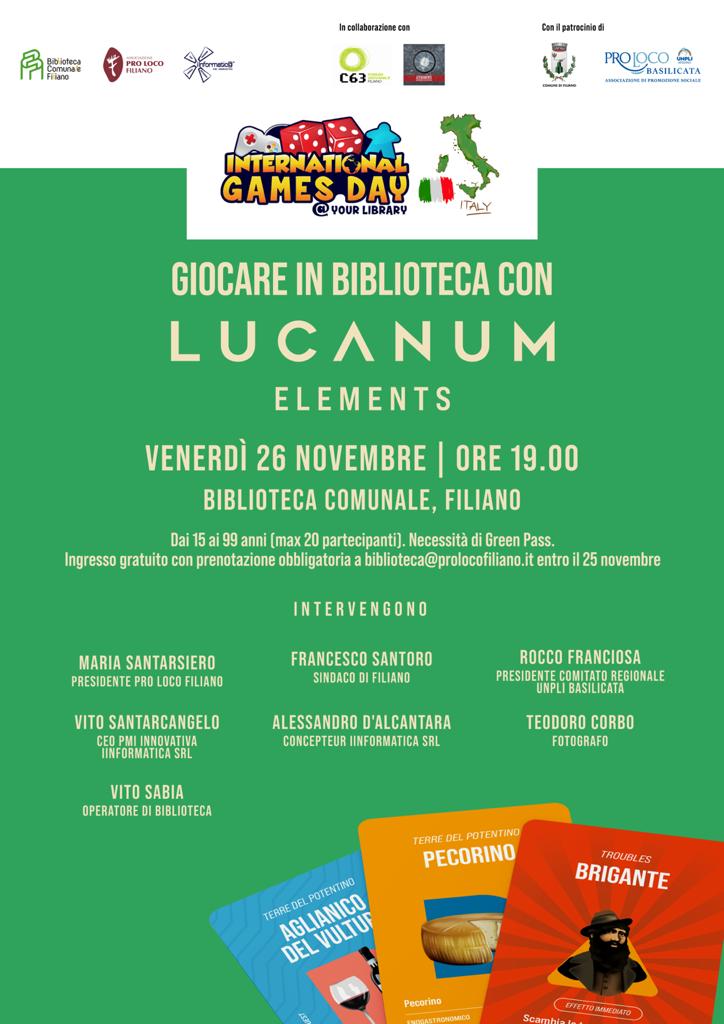 Lucanum Elements a Filiano per l'International Games Day
Continua il viaggio di valorizzazione innovativa territoriale targato Lucanum della PMI innovativa iInformatica.
Dopo la presentazione dei Lucanum Elements nella giornata di sabato nella città di Potenza ecco una serata all'insegna del gioco presso la Biblioteca Comunale di Filiano in occasione della International Games Day, iniziativa promossa da biblioteche di tutto il mondo per stringere i legami delle comunità grazie al valore educativo, ricreativo e sociale di tutti i tipi di giochi.
Nella giornata odierna alle ore 19:00 presso i locali della biblioteca della città patria del Pecorino DOP lucano, si terrà l'iniziativa Giocare in Biblioteca con Lucanum Elements, un pomeriggio per promuovere la conoscenza e il valore educativo del gioco in biblioteca con il gioco di carte Lucanum Elements.
"Lucanum Elements rappresenta un gioco di carte quale evoluzione degli stickers Lucanum e del gioco da tavolo della Basilicata.
Infatti, ritroviamo le missioni, gli elementi enogastronomici/panoramici/artistici (fra cui troviamo ad esempio il pecorino di Filiano, San Gerardo Maiella ed il castello di Lagopesole) ed i briganti unitamente a nuove incertezze ( città dell'utopia, città fantasma, elefante di rotonda, cucibocca, caciocavallo impiccato). Il tutto raccontato dagli stickers che hanno emozionato le nostre chat di whatsapp." dice Alessandro D'Alcantara, concepteur della PMI innovativa e artista dell'iniziativa Lucanum.
"L'obiettivo del gioco" aggiunge Sergio Vitullo, storico sistemista della PMI innovativa iInformatica e componente del team sviluppatore dei Lucanum Elements, "è quello di raccogliere, nel corso dei vari round, i Lucanum Elements coerenti con le proprie missioni, per totalizzare il punteggio più alto e vincere la partita.
Il lancio del dado, il pescaggio delle carte, la presenza di incertezze e le scelte di ciascun giocatore determineranno le sorti del proprio punteggio ma potranno alterare anche quello degli altri giocatori, rendendo quindi l'evoluzione della partita divertente e imprevedibile."
Un nuovo prodotto all'insegna della logica, strategia e valorizzazione territoriale dell'azienda iInformatica che è risultata anche fra le 10 aziende finaliste del premio nazionale TOP OF THE PID 2021 Mirabilia ove rappresenterà
il punto imprese digitali della CCIA di Basilicata con la sua applicazione digitale Lucanum Route e Lucanum Town.
L'iniziativa è organizzata dalla Biblioteca comunale di Filiano, Associazione Pro Loco di Filiano e iInformatica in collaborazione con Forum comunale C63 e Associazione Attivamente, e con il patrocinio del Comune di Filiano e del Comitato Regionale delle Pro Loco UNPLI Basilicata.
Durante l'evento oltre alla presentazione del nuovo gioco sarà anche presentato il calendario interattivo della Basilicata realizzato dal fotografo lucano Teodoro Corbo, autore del video The Lucanum Way.