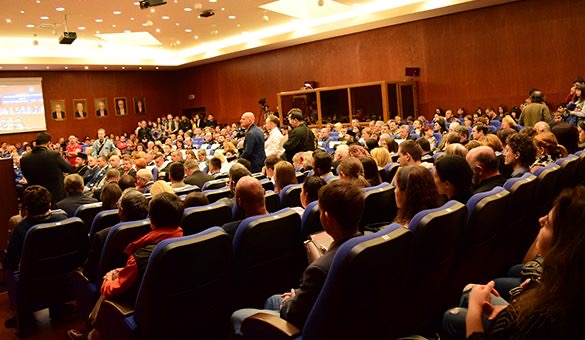 Cinque paper scientifici Made in Matera alla conferenza EEC2019 ad Arad
Nella prestigiosa cornice di Arad, dal 15 al 18 ottobre va in scena 'The Sixth Euro-China Conference on Intelligent Data Analysis and Applications (ECC2019)' organizzata dall'Università "Aurel Vlaicu" di Arad.
Il team della iInformatica, pmi innovativa con sede in Matera, rappresentato da Vito Santarcangelo, Diego Sinito, Nicolo Montesano e Angelo Lamacchia presenterà nel pomeriggio cinque contributi scientifici.
Il primo paper 'Innovative Approaches for Customer Satisfaction and Quality Service Evaluation in Matera 2019' verterà su metriche innovative per certificare la compliance nel settore alberghiero, grazie alla presentazione di case study innovativi sviluppati da tre eccellenti strutture ricettive materane quali Hotel Palazzo Gattini, Hotel Palazzo Viceconte e Hotel Degli Ulivi.
Diego Sinito' presenterà il paper 'Human activity recognition through wireless body sensor networks (WBSN) applying data mining techniques' con una interessante applicazione di classificazione e clustering di biosegnali.
Il terzo contributo dal titolo 'Blockchain Fuzzy as Innovative Tool for the certification of Corporate Social Responsibility' verterà su un rivoluzionario approccio progettato e implementato da Michele Di Lecce ed Emilio Massa sulla blockchain semantica tramite l'ausilio dell'hashing fuzzy al fine di potenziare le caratteristiche della blockchain, applicata a contesti di corporate social responsability ( Capurso Azienda Casearia).
Nicolo Montesano presenterà nel contributo 'Trends and future perspective challenges in Big Data' una revisione di letteratura sulle principali tecniche e framework per l'analisi di big data, comprensivo dell'analisi di scenari concreti nel settore della sicurezza antincendio (L'Antincendio Srl) e per la vigilanza armata (Vigilanza La Ronda del Materano).
Chiuderà la sessione Vito Santarcangelo con il contributo 'Evaluation and Prioritization of Information Security Controls of ISO/IEC 27002: 2013 for SMEs through Fuzzy TOPSIS' in cui verranno analizzati i controlli dello standard iso27001 tramite l'approccio TOPSIS applicato a valutazioni fuzzy.
Una bellissima occasione di valorizzazione delle attività di sviluppo sperimentale condotte nel territorio materano.
Per approfondire: https://www.ecc2019.ro