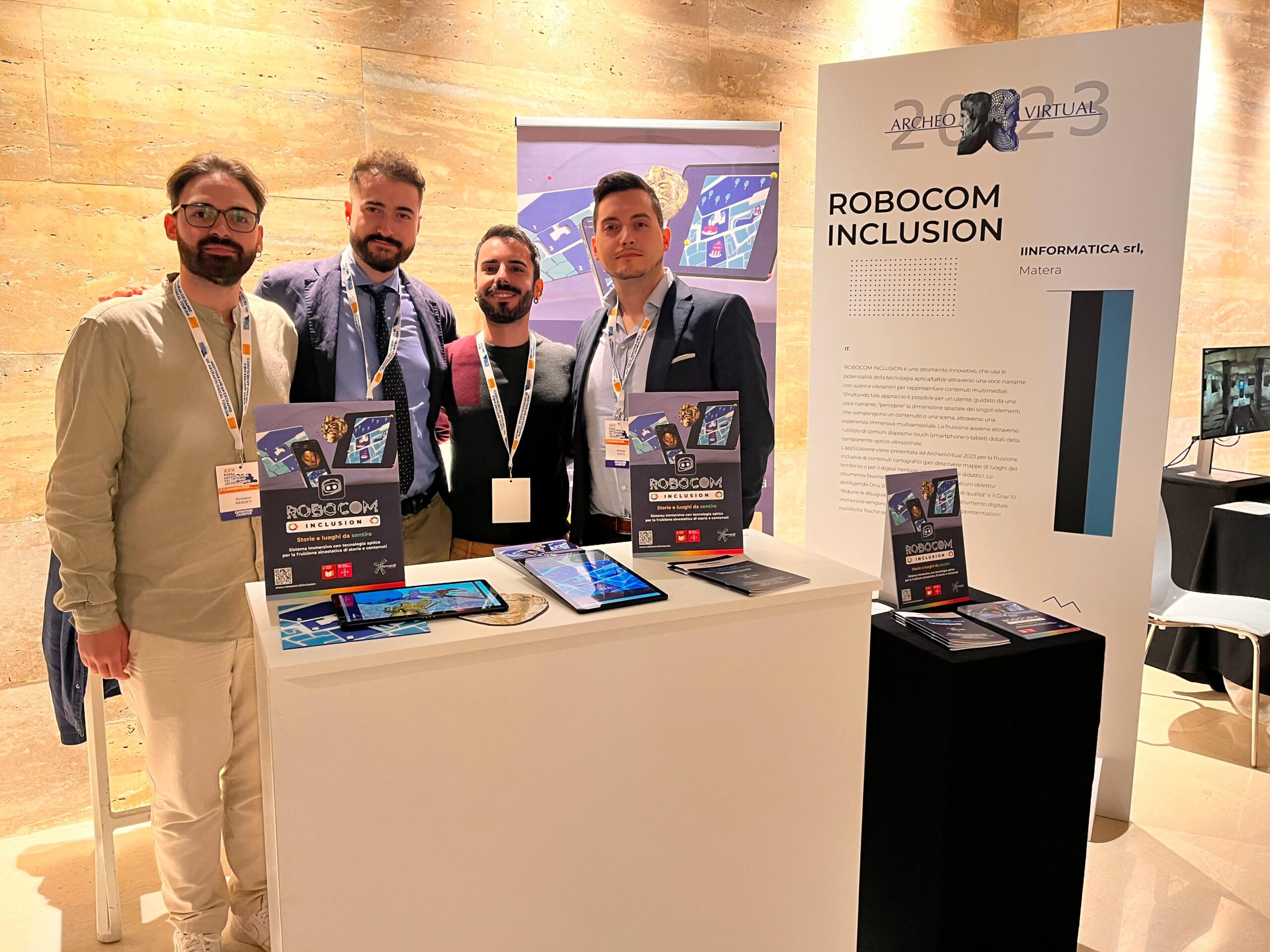 Ad Archeovirtual 2023 va in scena Robocom Inclusion, la soluzione multisensoriale di iInformatica selezionata dal CNR
Un racconto empatico che accompagna i nostri sensi nella scoperta delle mappe dei nostri centri storici. Vere e proprie opere d'arte del nostro patrimonio culturale che diventano vive e dinamiche attraverso una voce narrante che ci accompagna nell'interazione con i singoli dettagli o personaggi presenti.
Robocom Inclusion, selezionato dal Centro Nazionale delle Ricerche per Archeovirtual 2023 in corso alla Borsa Mediterranea del Turismo Archeologico di Paestum fino al 5 novembre, fa tutto questo e rende possibile una nuova e rivoluzionaria modalità di fruizione di contenuti. Progetto che è stato realizzato dalla PMI innovativa lucana iInformatica Srl, vincitrice del premio nazionale Top of the PID 2023 con il progetto Realverso Lucanum.
Augusto Palombini, ricercatore CNR Ispc e direttore scientifico di Archeovirtual, in apertura del convegno ha dichiarato: 'Quest'anno Archeovirtual è all'insegna delle nuove intelligenze, intese come l'intelligenza artificiale nelle sue varie declinazioni e strumenti per letture inedite ed in profondità del patrimonio culturale' e in più ha riconosciuto il valore del progetto made in sud: 'Fra questi spicca Robocom Inclusion: una soluzione innovativa che consente di avere accesso ad informazione di dettaglio di mappe ed opere d'arte attraverso livelli di percezione inediti'.
Una nuova dimensione esperienziale sinestetica, una nuova modalità di fruizione di contenuti che fa dell'utente il protagonista assoluto, guidato nell'interazione con i diversi scenari ricchi di dettagli. Con Robocom Inclusion è possibile, ad esempio, visitare le strade del centro storico di Potenza che prendono vita interagendo al tocco tramite vibrazioni. Si possono sentire i suoni d'ufficio del palazzo della Prefettura, o l'opera lirica in corso nel vicino teatro Francesco Stabile o la natura viva dei giardini della villa del Prefetto; o ancora le campane della chiesa e del convento di San Francesco. Il tutto accompagnati da supporti tattili – realizzati con stampa 3D FDM a partire da immagini 2D convertendo gradienti cromatici in spessori – che rendono l'esperienza ancora più immersiva.
Emilio Massa, responsabile del progetto Robocom Inclusion, ha sottolineato: "Siamo onorati di poter presentare in questa cornice prestigiosa il nostro prodotto che introduce una nuova filosofia di rappresentazione di contenuti sfruttando le potenzialità degli smartphone e tablet, creando una nuova dimensione virtuale immersiva multisensoriale. Questa tecnologia si presta perfettamente con la fruizione di mappe cartografiche ed elementi del patrimonio culturale". Una bellissima conferma delle potenzialità del made in Basilicata che vede iInformatica aprifila di una nuova e rivoluzionaria tecnologia.